Hello and welcome to my part in the Squirrel and the Fox blog hop. If you have come here from Tracey's blog, then you're in the right place. If you just happened to stumble upon my blog, head to The Squirrel and The Fox to start at the beginning and read how the hop works. You can also see all the amazing prizes up for grabs.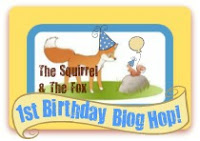 To celebrate one whole year of The Squirrel and the Fox, the team are giving away some wonderful prizes. There's even an individual prize for just landing here on this page.
To showcase their work, each DT member is also showing off some of their favourite creations.I have chosen this card, made by me on August 4th 2012 because it has one of my favorite digital stamp from Tiddly Inks.
The prize that is being given away from my blog has been generously donated by Tracey and it is a $10 Tiddy Inks voucher. To win this prize, simply leave your comment below (which you are doing anyway as part of the hop), become a follower of my blog and at the end of the hop I will randomly draw one winner. Remember, to be eligible for any prizes, you must complete the entire hop. "Thank you for visiting.
You have almost finished the blog hop. Your final stop is The Squirrel & The Fox to enter your name for your chance to win.