Hello everyone and welcome to the 5th Anniversary Scrap Party of SpiegelMom Scraps!! Jody, aka SpiegelMom, brought us all together to celebrate and party with all of you! We have some fantastic fun planned for you, including prizes for all the challenges being introduced by each blogger. Jody has rounded up some wonderful prizes for the challenge winners from Marion Smith Designs, Scrapbook Adhesives by 3L, V's Sweet Ideas (Vanessa and Nicole are with us today), Shimmerz Paints, May Designs, Willowfields Etsy Shop and American Crafts!!
To play along here's what you need to do:
Create a project based on any challenge introduced during this hop.
You may enter one challenge or do them all!
Link it up on this pageunder the appropriate InLinkz linky tool. You may link up a blog post with your newly created project (no back linking) OR use your Instagram account and link that up! Cool right!!
Have fun and share the challenges with your crafty friends. Sharing is caring and you can win another prize just for sharing! The blog hop and challenges are open July 10-17that midnight CST.
Winners will be announced on July 20thon the SpiegelMom Scraps website
Now, here's the entire Scrap Party Line Up for you. After you hop the blogs, there's a special bonus hop over on 3 YouTube Channels, starting at SpiegelMom Scrap's channel ! Don't miss out on that, there's a fabulous prize for hoping there also!!
SpiegelMom Scraps Blog – Jody http://spiegelmomscraps.com/
V's Sweet Ideas – Vanessa http://www.vssweetideas.com/
Charity – SMS Sparkler'sDT http://scrapfaire.blogspot.com/
Ka – Special Guest Designer http://stampingsmilesdesigns.blogspot.com/
Lou – SMS Sparkler'sDT http://punknscrap2.blogspot.com/
Nicole – V's Sweet Ideas http://sweetdesignzz.blogspot.com/
Kat – SMS Sparkler'sDT http://kraftykat9.blogspot.com/
SpiegelMom Scraps YouTube https://www.youtube.com/user/SpiegelMomScraps
Teresa Huckle https://www.youtube.com/user/craftinmommaML
Charity https://www.youtube.com/user/scrapfaire
Hey Guys! First I want to thank you for hoping along. We have some fabulous prizes and some amazing projects to share with you.
My challenge is the Planner Crazy Challenge
For this challenge Jody provided me with some awesome goodies that I used to decorate my planner. I had a fun time decorating and it didn't even take me long to do.
I used some Array of Aqua Spiegelmom sequins on the side – Similar sequins (Blue Lagoon)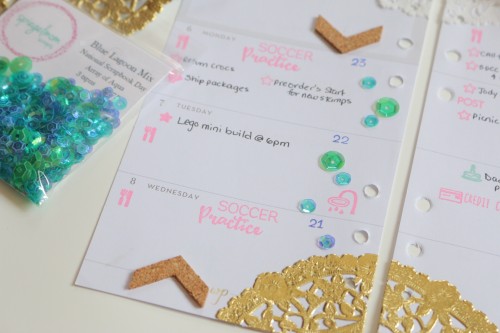 Made a butterfly magnet using the Pink paisley veneer shapes
I also made a bookmark on twine using another Pink Paisley wood veneer
I added some SpiegelMom cork chevrons
I decorated the edges with gold and white doilies from SpiegelMom
I enjoyed using all these products from SpiegelMom
Ok guys I hope I have inspired you to spice up your planners and don't forget you can pick up all these great goodies at SpiegelMom. Now it's time to head on over to Charity's Page!
SpiegelMom Scraps Blog – Jody http://spiegelmomscraps.com/
V's Sweet Ideas – Vanessa http://www.vssweetideas.com/ <——–YOU ARE HERE
Charity – SMS Sparkler'sDT http://scrapfaire.blogspot.com/
Ka – Special Guest Designer http://stampingsmilesdesigns.blogspot.com/
Lou – SMS Sparkler'sDT http://punknscrap2.blogspot.com/
Nicole – V's Sweet Ideas http://sweetdesignzz.blogspot.com/
Kat – SMS Sparkler'sDT http://kraftykat9.blogspot.com/
SpiegelMom Scraps YouTube https://www.youtube.com/user/SpiegelMomScraps
Teresa Huckle https://www.youtube.com/user/craftinmommaML